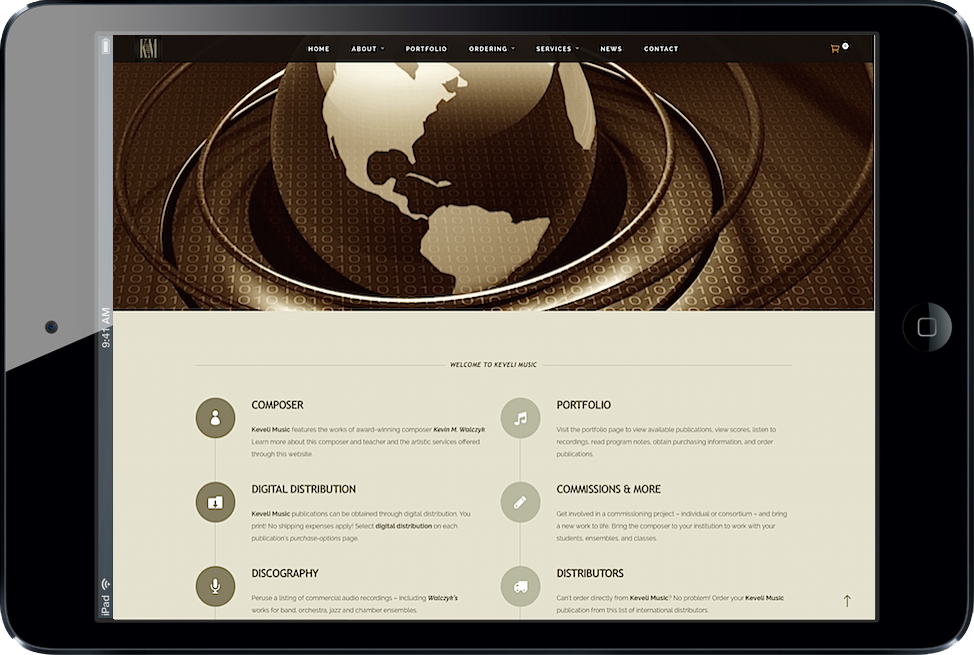 New KM Website Launched
McMINNVILLE, Oregon – Keveli Music Website 2.0 unveiled! Truth be told, this most recent unveiling of the updated Keveli Music website is probably the 5th in the last eight years. As KM enters its 9th year of operation it became necessary to remain current with the times. To that end, the new website incorporates a few new features: A responsive site that provides seamless integration with mobile devices; the integration of a full-featured shipping module (during the checkout process) that continues the site's use of the United States Postal Service as primary shipping courier; the option of purchasing KM publications via digital distribution; and the inclusion of social media (…more on this last topic in a moment). The website will continue to use PayPal as its payment gateway for clients using credit cards.
I would like to thank Judus Floratos of Floratos Web Solutions LLC who not only overhauled the new KM website, but also introduced (and convinced) me to utilize a content management systems approach, which has been a nice addition to my (limited, but necessary) coding skills. Thank you, Judus! I must reluctantly admit that this was my first request for help regarding any aspect of my KM entrepreneurial endeavors, which proves that great benefits can be attained when one seeks professional help (…did I really just write that?). At any rate, Judus performed a tremendous service for me and Keveli Music!
The new website is…well…new!
This means that not all KM publications have been added to the PORTFOLIO page. Most of the works for wind band, and a few works for orchestra, are currently available from the portfolio page. In the meantime, I will continue to add publications for orchestra, choir, jazz ensemble, and chamber ensembles. If you are seeking a KM publication that you know exists but is not yet on the portfolio page then please contact me immediately and I will expedite the work's inclusion to the portfolio page so that you can place your order.
The switch from un-social media…
Frankly, social media frightens me since I am 1] a recluse, 2] emote and "speak" through my music, and 3] have significant priorities in my life that I enjoy filling my days – family, composing, and teaching. But I have conceded to the fact that the integration of social media is a necessary business tool despite my disinclination toward the phenomenon, and that I am "socializing" my business – not my personal life. So, here I am with my first KM "post"…ever… even though I have yet to create a single social media account! (I'm still in denial…)
The Keveli Music website will use social media to inform followers of KM publications (new releases) and KM events, including performances, commissioning opportunities, and recording sessions. The old site's "events calendar" will now be replaced with social media via the NEWS page.
I welcome your comments and suggestions for making this site more user-friendly. Thank you for visiting!
–KW